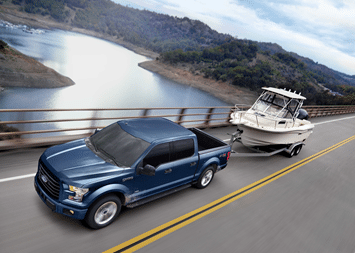 For decades, the Ford F-150 has been the best-selling truck in Canada and in North America. But how well do you know this title-holder of trucks?
1. It's made of aluminum
Aluminum helps deter rust and other types of corrosion while being more resistant to damage. It's also lighter by roughly 300 kg.
2. There is no Ford F-150 Diesel – yet
While there's currently no diesel powertrain offered in the F-150, it's due to be introduced at the end of 2017!
3. It has a 10-speed transmission
The F-150's transmission was completely redesigned for 2017 and now has 10 speeds that can shift automatically or manually. This contributes to improved fuel economy and power management.
4. It can come with a turbocharged engine
While there are still naturally aspirated engines available, the Ford F-150 can also be fitted with one of several of EcoBoost turbocharged engines: a 2.7-litre V6, a 3.5-litre V6, and a second higher-output 3.5-litre V6 for the most extreme F-150, the Raptor.
5. It benefits from Sync 3
Last year, Ford launched a completely redesigned infotainment system called Sync 3. It's faster and easier to use, and it responds better to voice commands to improve safety.